Taking the Stress Out of Your Apartment Search
Posted on Tuesday, December 27, 2016
When you start looking at apartment rentals, the choices can be overwhelming. Depending on your particular city or town, searching for a new place to live can turn stressful without a plan. Here are six tips for your next apartment search that can help you find the right place to live, with the least amount of anxiety.
Take the stress out of looking for apartment rentals with these six tips.
1. Set Your Budget
Too many people live beyond their means, and struggling to pay the rent each month is stressful, to say the least. Do yourself the ultimate favor and finally create the personal budget that you've been thinking about for years. Know what you can afford to pay for rent and utilities each month before you search for apartment rentals.
2. List Your Must-Have's
What is important to you in an apartment may not be at the top of someone else's list. Sit down and figure out your must-haves for your new home. Do you need to be close to work or school? What amenities get you excited? Are there specific neighborhoods that are safer or have better schools than others? When you make this list, prioritize it so that you know which items are deal breakers and which items are simply nice-to-haves.
3. Leverage Technology
Now more than ever, you can get more research and searches for apartment rentals done online. Take those must-haves that you just put on your list and use them for search criteria to find available apartments. Read apartment community reviews, look up information on amenities, and even check data on safety and other features. All of this can be done before you ever see the first apartment in person.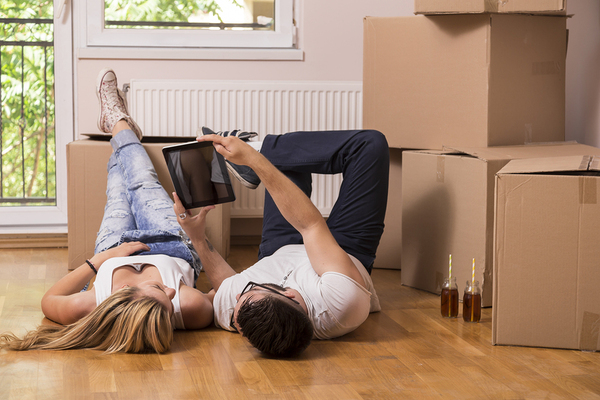 Use technology to narrow down your apartment rental choices.
4. Keep an Open Mind
Snagging apartment rentals can be competitive in some markets. If you live in major cities like San Francisco or New York, you may not get everything on your wish list. In fact, many people find success through hiring an apartment-finding service to help in these crazy markets.
5. Watch Out for Scams
There are plenty of scams online and in the real estate field. If a deal sounds too good to be true, it probably is. Be leery of anyone who asks you to wire them money or tries to charge hidden fees. For example, one investigation by the New York City Council found that almost one-third of brokers admitted they would charge a broker fee for apartments, even though they advertised "no broker fee."
6. Come Prepared
When you view apartments, be thoroughly prepared to do two things. The first is to inspect the apartment from top to bottom and take note of any defects or problems. The second thing you want to do is have everything you need to rent the apartment if it meets your needs. Bring your checkbook, proof of employment, and a state identification card.
Searching for apartment rentals can be stress-free if you stay organized and have clear goals. Once you have that must-have list, search properties here for your next new home.